Keeping your child safe online
National Online Safety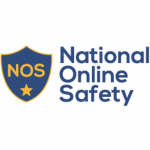 The online world is posing an ever-increasing risk to children, and it is important that schools, parents and carers work together to take an active role in teaching children about online dangers. Learning how to act safely when using the internet is an incredibly important part of safeguarding our children.
We are working with National Online Safety to provide parents with the very latest updates on the risks posed from the online environment.
On the National Online Safety app you'll find:
Keep up with the latest apps, games and tech your children are using, with the worlds most comprehensive online safety app for parents.
Hundreds of online safety guides on the topics you need to know about – from screen addiction, fake news and trolling to hacking,social media influencers and sexting;
An online safety training course for parents – developed by our experts and delivered by online safety ambassador Myleene Klass;
A user-friendly interface with increased functionality – find exactly what you need, when you need it;
The option to get notifications to your phone as soon as new content becomes available – so you can stay up-to-date with the latest online crazes (and risks);
An in-app voting system so you can help determine the subjects you'd like us to cover in future;
The facility to personalise your content by favoriting key resources.
Please download the app or sign up at the NOS webpage to receive your weekly briefing
Thank you for working with us to keep all children safe online