Summer Reading Recommendations – Year 6/7 Transition
Here are some summer reading recommendations. They are not compulsory, but it is always fun to read new books, perhaps you'll read one of these during the summer break!
Jelly by Jo Cotterill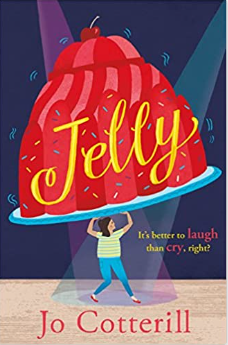 Jelly, aged 11, is the life and soul of the classroom. She's popular and great at doing impressions. She's also overweight. She's learned to deal with the put-downs by brushing them off and pretending she finds it all very funny – while making up poems and writing her private worries in a notebook.
Then Lennon arrives, Mum's new boyfriend. He's nice. He treats her mum well, buys her flowers, doesn't let her down. He's the first person to have noticed that Jelly is playing a part. He reads her poems and tells her they're really good. In fact, he'd like to set one to music.
When a talent show is announced at school, Lennon persuades Jelly to sing her poem in the contest. But can Jelly find the courage to perform something so personal – especially when Lennon might not always be there to cheer her on?
Ella on the Outside by Cath Howell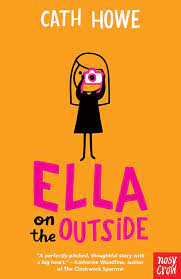 Ella is the new girl at school. She doesn't know anyone and she doesn't have any friends.
And she has a terrible secret.
Ella can't believe her luck when Lydia, the most popular girl in school, decides to be her new best friend – but what does Lydia really want? And what does it all have to do with Molly, the quiet, shy girl who won't talk to anyone?
A Good day for Climbing Trees by Jaco Jacobs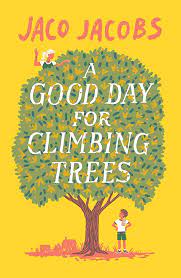 Two unlikely heroes inspire a whole town by fighting to save a tree. Sometimes, in the blink of an eye, you do something that changes your life forever.
Like climbing a tree with a girl you don't know.
Marnus is tired of feeling invisible, living in the shadow of his two brothers.
His older brother is good at breaking swimming records and girls' hearts. His younger brother is already a crafty entrepreneur who has tricked him into doing the dishes all summer.
But when a girl called Leila turns up on their doorstep one morning with a petition, it's the start of an unexpected adventure.
And finally, Marnus gets the chance to be noticed…
Can You See Me? By Libby Scott and Rebecca Westcott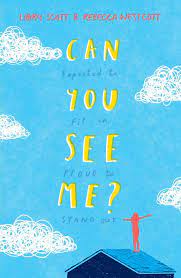 Tally is eleven years old and she's just like her friends. Well, sometimes she is. If she tries really hard to be. Because there's something that makes Tally not the same as her friends. Something she can't cover up, no matter how hard she tries: Tally is autistic.
Tally's autism means there are things that bother her even though she wishes they didn't. It means that some people misunderstand, her and feel frustrated by her.
People think that because Tally's autistic, she doesn't realise what they're thinking, but Tally sees and hears – and notices – all of it.
And, honestly? That's not the easiest thing to live with.
Artemis Fowl By Eoin Colfer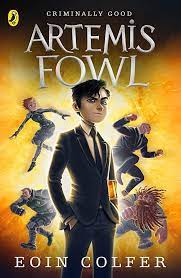 Twelve-year-old villain Artemis Fowl is the most ingenious criminal mastermind in history. His bold and daring plan is to hold a leprechaun to ransom.
But he's taking on more than he bargained for when he kidnaps Captain Holly Short of the LEPrecon (Lower Elements Police Reconnaissance Unit). For a start, leprechaun technology is more advanced than our own. Add to that the fact that Holly is a true heroine and that her senior officer Commander Root will stop at nothing to get her back and you've got the mother of all sieges brewing!
Boy in the Tower By Polly Ho Yen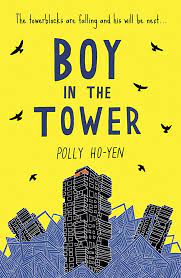 When they first arrived, they came quietly and stealthily as if they tip-toed into the world when we were all looking the other way.
Ade loves living at the top of a tower block. From his window, he feels like he can see the whole world stretching out beneath him.
His mum doesn't really like looking outside – but it's going outside that she hates. She prefers to sleep all day inside their tower, where it's safe.
Except it isn't any more. Strange plants have started to take over and tower blocks are falling down around them.
Now Ade and his mum are trapped and there's no way out . . .
The Boy Who Flew  By Fleur Hitchcock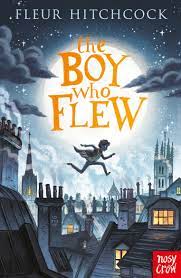 A vivid adventure filled with danger and heroism from the author of Murder in Midwinter.
Athan Wilde dreams of flight. When his friend, Mr Chen, is murdered, Athan must rescue the flying machine they were building together and stop it falling into the
wrong hands. But keeping the machine safe puts his family in terrible danger. What will Athan choose – flight or family?
From the acclaimed author of Murder In Midwinter, Fleur Hitchcock's The Boy Who Flew is a thrilling, murderous tale set among the steep rooftops and slippery characters of Athan's intricately imagined world. Perfect for fans of Philip Pullman,
Peter Bunzl and Emma Carroll.
The Boy Who Made Everyone Laugh By Helen Ritter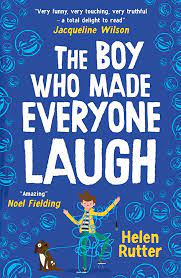 Billy Plimpton is an eleven-year-old boy with a big dream.
He wants to be a stand-up comedian when he grows up: delivering pinpoint punch-lines and having audiences hang on his every hilarious word.
A tough career for anyone, but surely impossible for Billy, who has a stammer. How will he find his voice, if his voice won't let him speak?
The idea for this story came from Helen Rutter's son, who has a stammer: she wanted to write the book that he would love to read, starring a child like him.
The 1000 Year Old Boy By Ross Welford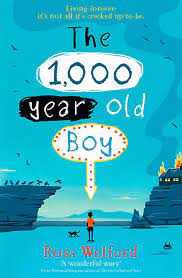 There are stories about people who want to live forever.
This is not one of those stories.
This is a story about someone who wants to stop…
Alfie Monk is like any other nearly teenage boy – except he's 1,000 years old and can remember the last Viking invasion of England. Obviously no one believes him. So when everything Alfie knows and loves is destroyed in a fire, and the modern world comes crashing in, Alfie embarks on a mission to find friendship, acceptance, and a different way to live…
… which means finding a way to make sure he will eventually die.
The Hacker By Malorie Blackman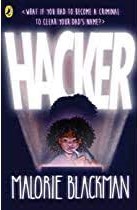 MESSAGE: THIS IS THE SYSTEM OPERATOR. WHO IS USING
THIS ACCOUNT? PLEASE IDENTIFY YOURSELF…
When Vicky's father is arrested, accused of stealing over a million pounds from the bank where he works, she is determined to prove his innocence. But how?
There's only one way to attempt to break into the bank's computer files. Even if Vicky is the best hacker in the world, will she find the real thief before they find her?
Dial A Ghost By Eva Ibbotson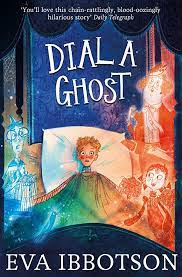 Fulton has gone to the Dial a Ghost agency with an evil plan. He wants to hire some truly terrifying ghosts to scare his nephew Oliver to death.
The Shriekers are the most violent and sickening spectres the agency has, but a mix-up means the kind Wilkinson ghosts are sent in their place.
Now Oliver has some spooky allies to help him outwit the wicked Snodde-Brittles . . .
Into the Sideways World By Ross Welford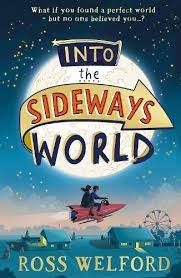 When twelve-year-olds Willa and Manny hear of a mysterious animal prowling their town, they are determined to prove it is real. Following the creature into a cave one full moon, they are swept into an alternate, ideal, world – one where pollution and conflict have been conquered decades ago and even their own families seem happier.
But when they return, no one believes them. So, with a global war looming in their own world, their quest for proof of the Sideways World becomes ever-more urgent, in a nail-biting race against time.
And Willa and Manny will have to make an impossible decision: because once you find a perfect world, can you ever leave it behind . . .?
POP By Mitch Johnson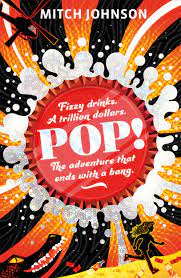 Queenie stares out at the ocean and dreams of a world beyond her small-town. She's about to get her wish…
When the priceless recipe to the world's most popular drink – thought to be lost forever – washes up at her feet, Queenie's life instantly changes. Everyone wants it, and with a $10 million bounty on her head, Queenie's soon on the run. But being on the run also makes Queenie begin to see the world around her more clearly – a world in which a big corporation's excess has left the planet covered in its plastic bottles and waste. Suddenly, the home she always dreamed of escaping, and the ocean she grew up with and took for granted, don't seem so bad.