Personal Development Education
Blessed Edward Oldcorne Catholic College has a vital role in preparing children and young people to negotiate the challenges and opportunities of an increasingly complex world. This presents many positive and exciting opportunities, but also challenges and risks. Personal Development is the school subject that deals with real-life issues affecting our children, families and communities. It's concerned with the social, health and economic realities of their lives, experiences and attitudes including relationships. It supports pupils to be healthy (mentally and physically), safe (online and offline) and equipped to thrive in their relationships and careers. Our personal development curriculum includes health and wellbeing, relationship and sex education, citizenship, British values, SMSC, and safeguarding. We aim to prepare our students for the challenges of the modern world so that when they leave us they will enter their next stage with greater awareness and understanding of themselves and others.
The school curriculum will focus on the three core learning themes for PSHE: health and wellbeing, relationships and sex education and living in the wider world. The Scheme of work also includes opportunities to link citizenship, British Values, Spiritual, Moral, Social and Cultural (SMSC), safeguarding and college virtues. Children have access to key knowledge, language and meanings in order to understand personal development and to use across the wider curriculum. Year group assemblies also make links to PSHE, Citizenship, British Values, SMSC and safeguarding.
Each year group has personal development days covering a wide range of the curriculum.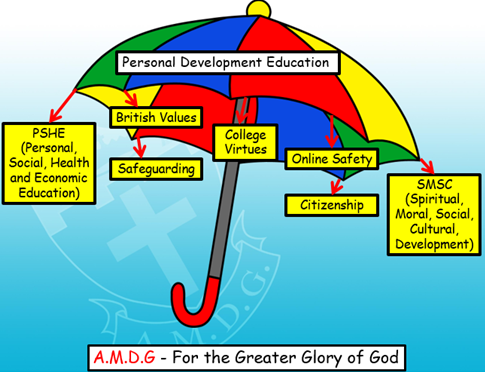 Further information on the content that will be covered can be found on this download.