At Blessed Edward Oldcorne Catholic College we recognise the challenges that families face in bringing up children. There may be times when you need extra help and support. If this is the case, please come and talk to us. There are many ways in which we can help as outlined in this offer of early help. We can also help to plan specific support for families where we can work together to set and achieve outcomes.
The diagram below shows the range of needs at different levels. We use this graduated approach to make sure we provide the best support for different families' individual situations.
Providing early help to our students and families at Blessed Edward Oldcorne Catholic College means we are more effective in promoting support as soon as we can. Early help means providing support as soon as a problem emerges, at any point in a child's life, from the foundation years through to teenage years.
Safeguarding Contacts
No child should suffer harm, either at home or college. Everyone who works in our college has a responsibility to make sure all our young people are safe.
If you are worried about the safety of any young person in our college you must report this to the Designated Safeguard Lead member if staff or the college Headteacher.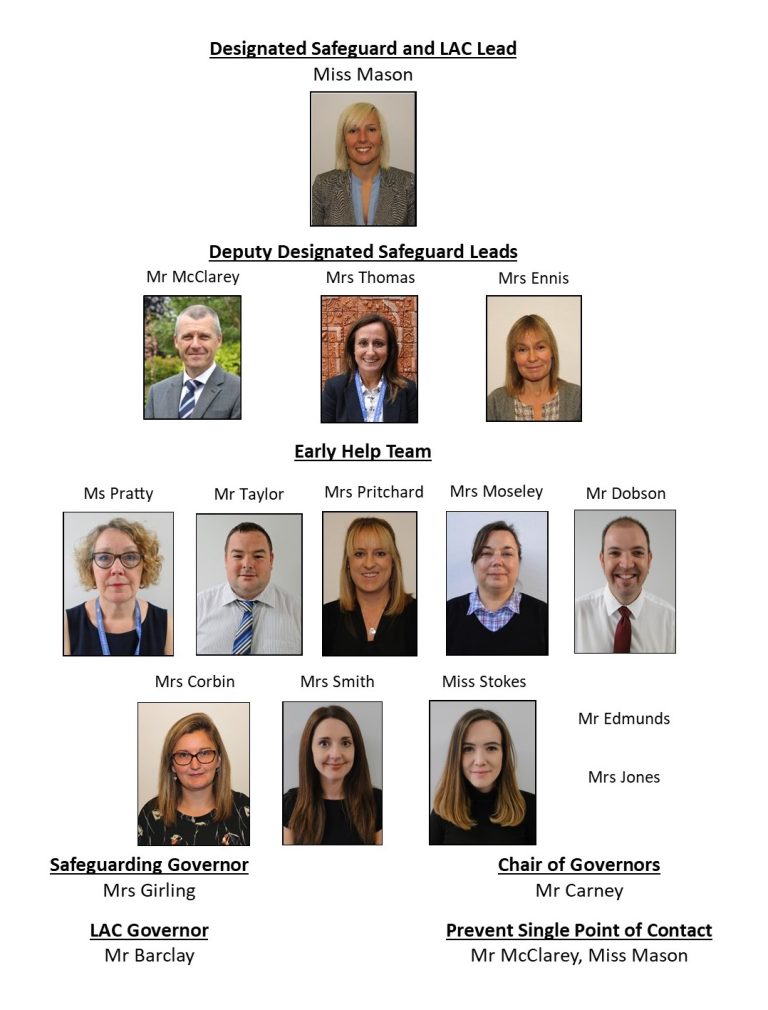 Early Help can support children and their families who may be struggling with:
Routines and family rules
Families who may be not be eating healthy food
Keeping to a healthy lifestyle
Children who are caring for a family member
Children who may not want to go to school for different reasons
Disability within the family including children being a young carer
Children in the family have special educational needs (SEND)
Children who may becoming involved in anti-social or criminal behaviour
Children who go missing from home
Children or parents / carers misusing drugs or alcohol
Children at risk of being tricked, forced, or made to work in the criminal world
Children who may need support because they may live in a home and see drug or alcohol abuse or adult mental health problems.
Children who have parents who argue a lot (and sometimes might hurt each other) whether the parents live together or apart.
Children at risk of being groomed to join groups which support illegal views
A privately fostered child (a child from another family living within your family home)
Early help relies upon local groups and people in the community, sometimes we work together to help children, young people, and their families.
Everyone needs help at some time in their lives and therefore an ethos of early help is important for any school. Below you will find a list of support we can offer in our school: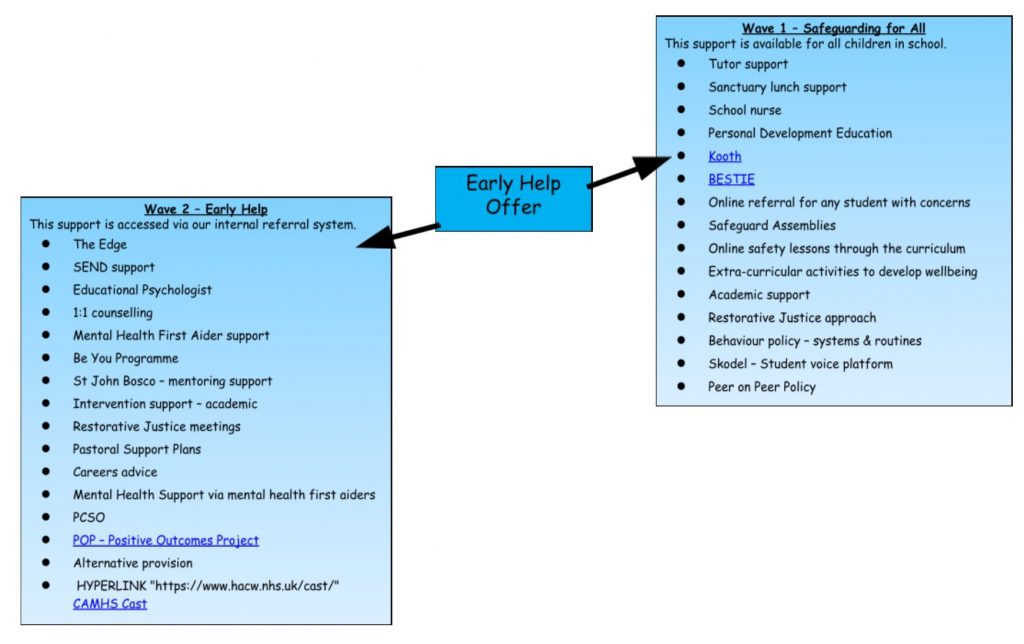 Local Services
Youth and Community Centre
Warndon Youth and Community Centre, Shap Dr, Warndon, Worcester WR4 9NX
St. John's Youth Centre, Swanpool Walk, St John's, Worcester WR2 4EL
Perdiswell Young People's Leisure Club, Worcester WR3 7SN
Early Help Family Support
The Hive, Sawmill Cl, The Butts, Worcester WR1 3PD
Worcester Food Bank, 7 Lowesmoor Wharf, Worcester WR1 2RF
The Front Door to Children's Services
If a member of staff, parent/carer or member of the public thinks a child or young person is at immediate risk of significant harm they should contact the Family Front Door (FFD) – 01905 822 666 or in an emergency always call 999.Do not wait to discuss this with the DSL/DDSL but do report it afterwards.
Sporting Opportunities in Worcester
Health (including mental health, emotional wellbeing, and sexual health)
The Starting Well Partnership offers a range of health services which support both children and families experiencing a range of health issues.
Worcestershire Health Visiting Service | Starting Well (startingwellworcs.nhs.uk)
If your child is under 5 years old and you need advice on issues such as feeding, behaviour, or toileting you can contact the Telephone Advisory Service on 0300 123 9551 (Monday – Friday 9am til 3pm). A Health Visitor will assist you over the phone with any worries, concerns, or questions you have.
School Health Nursing | Starting Well (startingwellworcs.nhs.uk)
School health nurses offer a range of services such as home visits, health needs assessments, time4u drop-in service, school aged hearing and national child measurement programme to support the needs of children and their families.
Text service supporting young people | Starting Well (startingwellworcs.nhs.uk)
Chat health is a free and confidential text service for young people in need of advice or support
To confidentially contact your school nurse, text: 07507331750
Social Prescribing: Onside Advocacy, Worcestershire (onside-advocacy.org.uk)
Social Prescribers support you to take control of your health and look after yourself by making connections with the different types of community support available.
CAMHS | Herefordshire and Worcestershire Health and Care NHS Trust (hacw.nhs.uk)
CAMHS provides mental health help to children, young people and their families across Herefordshire and Worcestershire
Home – Kooth
Kooth is an online mental wellbeing community which offers free, safe, and anonymous support.
Reach 4 Wellbeing | Herefordshire and Worcestershire Health and Care NHS Trust (hacw.nhs.uk)
The Reach4Wellbeing team promotes positive wellbeing to reduce the stigma of mental health by providing short-term group programmes for children and young people age 5-18 experiencing mild to moderate anxiety and low mood.
Papyrus UK Suicide Prevention | Prevention of Young Suicide (papyrus-uk.org)
Papyrus can offer suicide prevent support providing free and confidential helplines, advice, webchats, and resources.
Home | Healthy Minds (whct.nhs.uk)
Healthy Minds' 24/7 mental health helpline provides support or advice if you, or someone you know, is experiencing a mental health crisis and needs urgent help. Its available 24 hours a day to anyone in Herefordshire and Worcestershire.
Winston's Wish – giving hope to grieving children (winstonswish.org)
Winston's Wish provide support for children and young people following the death of a sibling, parent, or a person important to a child.
Sexual Health Know Your Stuff | Sexual health | Worcestershire County Council
Worcestershire Integrated Sexual Health Service (WISH) | Herefordshire and Worcestershire Health and Care NHS Trust (hacw.nhs.uk)
WISH offer friendly and non-judgemental specialist services to support with information and advice, contraception, pregnancy, STIs and screening.
Under 21 Saturday Service – Clinic telephone lines are open between 10:00am – 12:30pm on Saturdays – Please call: 01905 681673 for further details.
Young People have a telephone consultation and are asked questions about their relationships. Callers will be advised what to do next and directed towards a clinic if necessary.
WISH have a dedicated Outreach nursing service. Referral forms can be found at www.knowyourstuff.nhs.uk. The Outreach team see young and vulnerable people who couldn't otherwise access sexual health services.
Free STI test kits and contraception: SH:24 Free Home STI STD Test | Sexual & Reproductive Health (sh24.org.uk)
Bullying (including Cyberbullying)
If you are concerned your child or a child, you know is being bullied there are several services and useful links which can help you support your child as a parent.
In the first instance if bullying is happening at school, please speak to a member of staff who will be able to help.
The following links will provide you with more information if you or someone you know is being bullied:
Online Safety
If you have concerns around the safety of your child or a child you know online, the following links will provide you with information, support, and advice to help understand the risks and keep your child safe online:
Sexting is the sending or receiving of sexually explicit images, videos or conversations online.
Relationships
The following services and links offer information, advice, and intervention on healthy relationships for your family and children:
Challenges at home: Harmony at Home – information and support for parent carers | Worcestershire County Council
CRUSH is an awareness raising and support programme to help young people make safe and healthy relationships. http://www.westmerciawomensaid.org/crush/
Friendships and relationship in teenagers
Making friends and starting new relationships are a big part of getting older. It's very common to fall out with friends or break up from relationships – which can be very difficult to deal with. You might also be in a relationship that doesn't feel right and need some advice about what to do. The websites below contain lots of information about making friends, peer pressure, healthy and unhealthy relationships, sex and much more. There is also information available for parents around how to talk to your child about friendships, sex and relationships.
SEND (Special Educational Needs and/or Disabilities)
Worcestershire Young Carers
Finance, Housing and Employment
Parenting Support
Substance Misuse
Do you have a family member in prison?
Get Safe
If you are experiencing any of these challenges or issues affecting family life, please contact a member of staff who will be happy to provide you further advice and support.
School Nurse Team
Click here for the link to complete a referral to the school nursing service
Early-Help-in-Worcestershire-Booklet
The Family Hub – Support for families